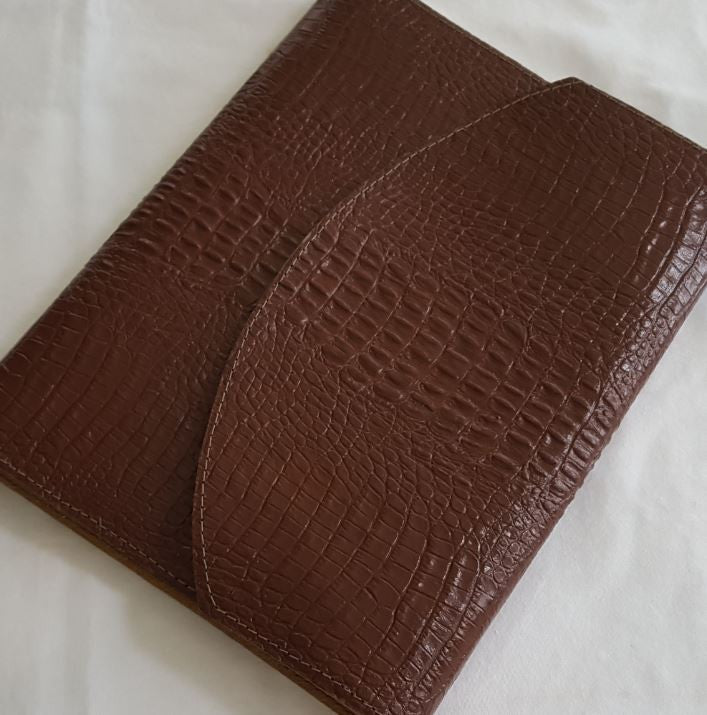 Double Wrap-Around Leather Discbound Notebook Cover
Upgrade the look of your discbound notebook with Discbound Marketplace's exclusive leather cover.
DOUBLE WRAP - Completely covers and protects the binding discs and open side of the contents!
WRAP-AROUND - protect the outer edge and neaten the overall appearance.
FLEXIBLE - lightweight yet protective, and flexible to save space in a handbag or tote. 
INTERIOR POCKET - at your option you can add an interior pocket. Two styles are available (see photos): Bottom-to-Top or Corner. Unless you specify differently in your order notes, the interior pocket will be the same leather as the interior leather. 
MAGNETIC or LACE-WRAP CLOSURE - you can choose our traditional magnetic closure, and now have the option of having a lace-wrap closure (see photos). There is no upcharge for the lace-wrap closure. Unless you specify differently in your order notes, the lace-wrap closure will be the same leather, or a near match to, the exterior leather. 
BIG DISCS OR LITTLE DISCS - the Wrap-Around design closure system lets you use virtually any size binding discs with this cover. As noted below, this item is compatible with Circa by Levenger, Arc M by Staples, Happy Planner, Rollabind, and other discbound products. One set of size T discs is included as a gesture of goodwill, but again, any size disc can be used with this item. If you intend to use this cover with 2" or 3" discs, please include this in your order note.
Top/bottom and wrap sides extend approximately 1/2" to 1" beyond the edge of the paper (see size table below) for full protection.
Choose your own colors and custom design a Double Wrap-Around Leather Cover for your discbound notebook! Discbound Marketplace's exclusive new design gives you the flexibility to create your own lightweight cover and enjoy the Wonderful World of Discbound Notebooks even more! 
Don't be limited by a poly or laminated cover for your notebook or planner/journal. This Leather Wrap-Around Cover adds a new level of sophistication and personal style to your notebook, and allows you to further customize the discbound system to fit your own unique style of notetaking, planning, or journaling.
Look through the photos to view the many features of our exclusive and unique design.
Click here to see our FAQ page for answers to questions about this item, leather, options, etc. 
HOW TO ORDER
1. Choose the size. Use the drop-down menu: 7-disc (compact) 8-disc (junior/half-letter), 9-disc ("Happy Planner"), or 11-disc (letter size).
2. Choose the poly/plastic binding strip color. Use the drop-down menu: black, or natural white.
3. At checkout, type in your choice of exterior leather and interior leather, based on current availability. Click to see the most current leather selection.
4. Allow 3-4 weeks for delivery, as each cover is custom-made to order.
ABOUT LEATHER
We offer unique leathers that are not always available from big-box retailers. You choose! Pick one leather for the exterior, and another (or the same) leather for the interior. Leather inventory is always being refreshed, and the current availability is shown below and on our FAQ page. 
Sales Details
Every Double Wrap-Around Cover includes:

Wrap-around cover with outer and inner leather choices.
50 sheets of premium writing paper (unruled) included; 24 lb. (90 gsm).
Magnetic closure, extra strong and hidden; allows cover to adjust based on depth of notebook contents. 
Pen loop with premium writing pen.
Stitched and hand-finished edges. 
One set of black discs (11, 9 or 8 depending on cover size), size T.
Paper/planner content not included.

Click here to read our Frequently Asked Questions about your custom order.
Compatible with your own discs (Happy Planner, Levenger Circa, Rollabind, Arc by Staples, Martha Stewart, etc.).
Free shipping (U.S. only) on orders over $75.
All Discbound Marketplace products are compatible with all disc-bound systems (Circa by Levenger, Arc M by Staples, Martha Stewart, Atoma, Rollabind, Happy Planner). 
| | |
| --- | --- |
|  Number of Discs | For Paper Size |
| 11 | Letter 8-1/2" x 11" or A4 |
| 9 | 'Happy Planner' 7" x 9-1/4" |
| 8 | Junior 5-1/2" x 8-1/2" or A5 |
| 7 | Compact 3-3/4" x 7"  |
| 5 | Compact 3-1/4" x 5-3/4" |
Other items to enhance your discbound experience, available exclusively from Discbound Marketplace (sold separately):
Wrap-around covers in poly.
Notebook square economy packs.
Mini-notebooks multi-packs for gifts or for jotting down quick ideas.
Expansion discs in colors and sizes to further customize the look of your Discbound Marketplace notebook.
Premium writing paper in sizes and colors.
Notebooks in additional sizes and colors.
2-is-1 and 1-is-2 Notebooks.
Pen Holder.
Magazine/Brochure holders. 
Sheet protectors, business card holders, and photo holders.
Charm Holders.
Wholesale and custom discbound requests are welcome.
Don't lose out on special offers.
Sign up for our newsletter to receive special offers and stay informed about new products and features.
 Look for Discbound Marketplace on Facebook.
Important "fine print."
Discbound Marketplace is an independent seller of disc-bound notebook related materials. It is not affiliated in any way whatsoever with any manufacturer or provider of disc bound systems or products. Some items may carry original manufacturer branding information. All equipment is sold "as is" with an express disclaimer of all warranties, expressed or implied, including but not limited to any implied warranty of merchantability or fitness for a particular purpose; there is no assumption of any liability in connection with the equipment.